Minimal environmental impact, maximal crop yields. Biotelliga's natural agricultural crop protection technologies, developed with the help of Callaghan Innovation, are the answer to reducing the reliance on harmful chemicals.
At a glance
Biotelliga is developing biologically based technologies - that work consistently - to help growers protect their crops from pests and disease, reducing the reliance on synthetic chemicals.
Helping to ramp up R&D, the business has accessed a range of support from Callaghan Innovation including scientific expertise from our Research and Development Solutions team.
With two products in late stages of development, Biotelliga has cracked the efficacy problem of other biological solutions and is poised to take advantage of a huge market opportunity.
Callaghan Innovation has supported us in a very tangible way by allowing us to bring on students to look into things that we wouldn't have been able to do off our own bat.

- Dr Damien Fleetwood, Chief Executive, Biotelliga
A growing population fueling growing chemical use
We're a hungry bunch, and our global population is only growing.
The problem is these put a growing pressure on agricultural systems, which means a growing reliance on synthetic chemicals used on crops. A vicious cycle. But with people all too aware of the toxicity of these products and the harmful effects on health, and the environment, how do we get around it?
Ag-biotech company Biotelliga is trying to provide an answer, developing natural agricultural crop technologies.
"We're focused on identifying natural crop-protection traits - features in nature that are already there protecting plants from pests and diseases - and utilising those to bring them into the modern cropping system," says Dr Damien Fleetwood, Biotelliga's Chief Executive.
The biggest problem however, for the business to overcome has been historically biological solutions just haven't worked as consistently as traditional options, meaning uptake from growers has been hampered.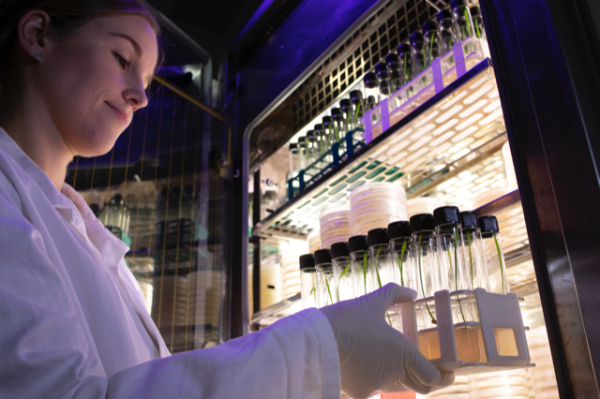 Exploration and extraction of fungi
On its journey, Biotelliga has harnessed Callaghan Innovation support to ramp up its R&D efforts, particularly the capabilities of our Research and Development Solutions Process Engineering team.
For example, one method for manufacturing Biotelliga's bioinsecticide involves extracting a fungus that lives inside grass plants. In order to develop the botanical extraction technology, the business has worked with Callaghan Innovation scientists, technical experts, and accessed our equipment.
"Being able to access Callaghan Innovation's expertise in process engineering, particularly at pilot scale, is very valuable to us; carrying out these processes at pilot scale is very expensive, and something small businesses just can't afford to do themselves," says Fleetwood.
In order to bolster its own expertise and fuel its R&D, Biotelliga has also accessed R&D Experience and R&D Career Grants. This has enabled, for example, a student to work on initial investigations into how endophytes - fungi that live within plants - can be used in biological crop protection. This student was then employed fullt-ime and leads Biotelliga's research in this area.
"Callaghan Innovation has supported us in a very tangible way by allowing us to bring on students to look into things that we wouldn't have been able to do off our own bat," says Fleetwood.
A strong combination for future success
Biotelliga's combination of strong business backing, technical expertise and Callaghan Innovation support is enabling it to develop technologies that will be able to be applied globally, and to a broad range of crops and environments.
In fact, challenges surrounding the likes of population growth, climate change, and increased regulatory controls, means Biotelliga's market is exponential - the total available market for the technology areas developed by the business up to USD$67 billion per annum.
As well, Biotelliga reckons it's cracked the efficacy conundrum with two products in the late stages of development. One is a sprayable bioinsecticide, the other a sprayable biofungicide, which will be registered for use in New Zealand within the next two years.
"One of the critical aspects of the technologies we're developing is, yes they're close to, and in some cases more effective than, synthetic chemistry, but they're also consistent enough that the grower can use them and know they'll work," says Fleetwood.
"And while we've got technologies we're developing for today, which are sprayable, we're also working on capabilities for the future that involve identifying fungi that will live within the plant for the life of the plant - essentially vaccinating the seed to protect a crop for life."