We have all seen, and many of us have suffered, when fog disrupts a flight, particularly in New Zealand in winter when this is an all-too-common occurrence.
At a glance
Pyper Vision, a Christchurch-based company, is developing a groundbreaking system using UAV technology to disperse a compound that clears fog droplets, ensuring safe visibility for take-offs and landings at airports.
Fog disrupts flights globally, accounting for 29% of weather-related flight disruptions and causing frustration for millions of passengers, with New Zealand being particularly affected.
This innovation promises to enhance flight safety and airport operations on foggy days, welcoming an era of no fog delays across Aotearoa.
Collaboration with Callaghan Innovation over a number of years has accelerated regulatory trials, attracted substantial investments and earned recognition, highlighting the potential for innovation in New Zealand's aerospace industry.
Fog can't be prevented, or planned for. Yet worldwide, fog makes up for 29% of all weather related flights disruptions, creating frustration amongst an estimated 620M passengers every year and costing billions in lost revenue.
For one Kiwi student pilot, it all became too much, when fog continually disrupted too many
of her flying lessons. Emily Blythe's mum is a pilot and an air traffic controller and her dad and grandad are pilots, so she understands better than many the disruption of fog. Blythe recently told Stuff that, "A lot of my lessons in the early days were disrupted by fog and I just wanted to see a solution."
That is where Pyper Vision was born, led by Founder and CEO Emily Blythe.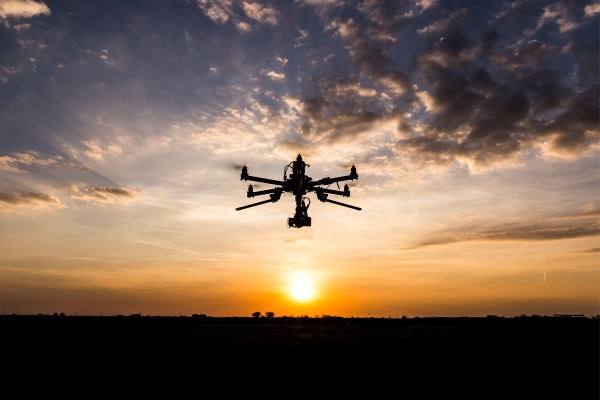 Welcoming an era of no fog delays
The Christchurch-based company is developing a world-first system designed to create and sustain safe visibility over airport skies. The UAV technology works by dispersing a compound that brings fog droplets to ground, clearing the skies for take-off and landing. The system is specifically designed for use at airports, preventing disruption to commercial operations on foggy days; creating a safer flying experience and more efficient, resilient airport operations.
Callaghan Innovation has been there alongside Blythe and the team every step of the way. It was 2018, when the company was just an idea, that Callaghan's Electrical and Mechanical Engineering teams first came into contact with Pyper Vision. The Christchurch team lent them some kit, before Callaghan Innovation welcomed their team into its precinct in Christchurch, supporting them with extra lab space so they could prove their concept.
Callaghan Innovation has been an invaluable partner on my entrepreneurial journey with Pyper Vision,

Emily Blythe - Founder and CEO, Pyper Vision
"From the early days of founding the company, their support through grants and vital connections has played an important role in our growth. They've not only believed in our vision, but have provided some of the practical tools we needed to turn that vision into reality."
Since then, Pyper Vision have been the recipient of a number of Callaghan Innovation's project and student grants, including through programmes such as Innovation IP [now Beyond IP], and six projects with Callaghan Innovation's Research and Development (R&D) Solutions division.
This wraparound support helped Pyper Vision to accelerate their entry for regulatory trials by six months and supported the company to secure large-scale investment. Now a team of nine (and growing) are working with New Zealand regulatory agencies, government and business.
Recognition has poured in, too. Pyper Vision were also named as one of Callaghan Innovation's 'ones to watch' in the Sir Paul Callaghan 100 list. Blythe herself recently won Innovator of the Year Te Pou Whakairo o te Tau at the 2023 New Zealander of the Year Te Pou Whakarae o Aotearoa Awards.
Pushing the boundaries of innovation in Aotearoa
By making fog disruption a thing of the past, Pyper Vision is taking air transport into a more resilient future. The future is looking bright as Callaghan and Pyper Vision continue working together on research and development.
Blythe sums it up best: "We're just one of a number of local innovative aerospace companies, drawing on our entrepreneurial spirit to push the boundaries of what's possible right here in Aotearoa."
"With the help of organisations like Callaghan Innovation, we're not just shaping the future of aerospace, we're redefining it, and I'm excited to see where this journey takes us next."