Donaghys: At the forefront of sheep farming innovation
With a real passion for agriculture and a desire to make farmers' lives better, Donaghys set about creating a world-first spot-on treatment for sheep. With help from Callaghan Innovation, they've done just that.
At a glance
Agritech business Donaghys creates world-first combination spot-on treatment for sheep, helping make farmers' lives easier and reducing animal handling and stress.
Through Callaghan Innovation grants and support, Donaghys was able to meet the rigorous requirements of the registration process and take the product to market.
By cracking the ability to administer active ingredients through a sheep's skin, future product opportunities are aplenty for Donaghys.
Callaghan Innovation really encourages our R&D programme, and that's not just about the financial support.

- Jarred Marfell, General Manager Agriculture, Donaghys
A focus on the farmers
Is there anything more quintessentially Kiwi than creating a groundbreaking farming product off the back of a conversation held with a farmer on the sidelines of a netball game?
Because that's how agritech business Donaghys' world-first combination spot-on treatment for sheep started over a decade ago.
Common with other animals, spot-on treatment involves quickly and easily administering medicine through the skin. And whilst Donaghys had already developed ways to do this for cattle, sheep was a trickier situation due to their thick wool and lanolin (the waxy secretion produced by woolly animals).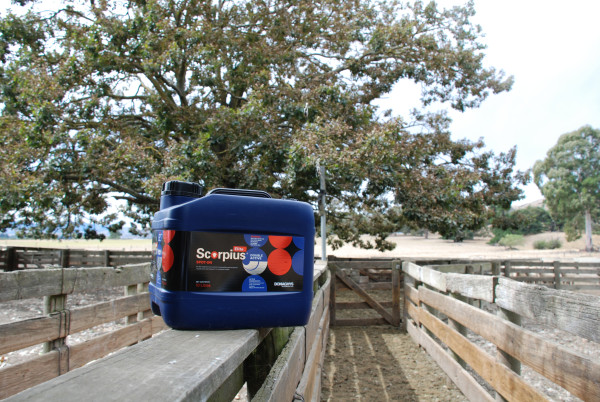 For Donaghys though, a business steeped in innovation and R&D history, the challenge was worth it. It would mean helping to significantly reduce farmers' physical effort each year, as well as animal stress brought about by oral drenching (where farmers insert a nozzle into the animal's mouth to administer medication).
"A key thing about innovation at Donaghys is where it comes from," says Jarred Marfell, Donaghy's General Manager Agriculture. "It doesn't just come from a scientist in a lab; it comes from the whole business and our customers. We're all passionate about agriculture and always looking for ways to make life easier for farmers, or to take costs out of farming systems, or to reduce environmental impacts."
A world-first product years in the making
Creating the new patented formulation was one thing, meeting the rigorous requirements of the Agricultural Compound and Veterinary Medicine (ACVM) registration process so Donaghys could take the product to market was another.
Critical to that process was Callaghan Innovation grants. This support, says Marfell, enabled the business to carry out essential product testing in order to gather the registration data.
"Because a product like this is so novel, the requirements for testing are very high; the testing takes a long time and is expensive," explains Marfell.
"This is where Callaghan Innovation's support really came into its own because it allowed a business like ours to fast track that process. Callaghan Innovation understands R&D - that it can be time-consuming, expensive, and that risk and failure are also part of it."
Callaghan Innovation's Agritech Customer Manager Justin Andrist also understands the challenges agbiotech firms face in commercialising their innovations, and how vital a long-standing partnership with the likes of Callaghan Innovation can prove.
"We initially provided support for this project more than seven years ago, which shows the very long development pipelines commonly involved with commercialising this kind of R&D," says Andrist. "It shows the serious commitment required for businesses to become successful in this space."
The future of sheep farming
When Donaghys' Managing Director Jeremy Silva chatted to that farmer on the side of the netball court all those years ago, he said drenching sheep over the summer required the equivalent labour of a full-time employee.
Now, with Scorpius Elite, Donaghys' spot-on technology for sheep, that burden is significantly reduced.
"Ultimately, it all comes back to that focus on making farmers' lives easier," says Marfell.
And, with the business having successfully cracked how to administer active ingredients through a sheep's skin, Marfell says a range of future opportunities has opened up.
"We'll be testing some specific products over the next four to five years. In particular, we're looking at combining other patents we have – around combinations of active ingredients – with the technology we've developed to keep the actives stable.