From motion-tracking sensing gloves through to sports performance wearables, Auckland-based StretchSense is making garments 'smart', weaving custom sensors into textiles, and taking them to the world.
At a glance
StretchSense has developed wearable technology, whereby customised sensing systems are seamlessly woven into garments and textiles, with products already used by those in the sports and fitness, health, and virtual reality industries.
Callaghan Innovation has supported the company's efforts by co-funding its R&D programme, helping to boost its scale, and by helping bring in postgraduate students to support R&D also.
StretchSense is innovating towards future applications of their current technology as well as looking at developing new technology such as self-powered wearables.
What do you do?
StretchSense is helping to enable the "third generation" of wearables, in which the garment is the sensor. It develops customised sensing systems that seamlessly integrate soft sensors and electronics into textiles to meet clients' specific requirements. The sensing systems are used around the world to create wearable technology products for industries that include sports and fitness, health and virtual reality.
The company says wearable technology offers incredible potential for improving people's abilities, social outcomes and quality of life. Information generated from the motion of their body allows wearers to expand their knowledge of themselves beyond the range of their five senses.
Applications for StretchSense systems include wearables for sports performance analysis, advanced fitness tracking, injury reduction, rehabilitation and ergonomics. Motion-tracking wearables such as sensing gloves are used in virtual reality and gaming for entertainment or education.
Future applications include context-aware smart clothing that can recognise and monitor many kinds of human tasks and activities.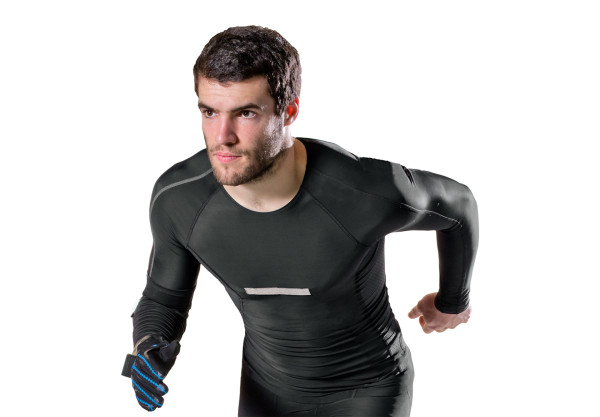 How did you start?
StretchSense has been developing and refining its electroactive polymer technology for more than a decade. It began in 2012 as a spinout from the Biomimetics Lab of Auckland University's Bioengineering Institute.
Since then, StretchSense has secured investment from Ralf Muller, Auckland UniServices, Flying Kiwi Angels, New Zealand Venture Investment Fund and Start Today Co.
As the business has grown, so has its range of products and services. From its base of sensor and circuit development, Stretchsense has evolved to become expert in manufacturing customised sensing systems and now offers a full range of technical and commercial services, as well as producing complete products for customers on request. During its evolution, the company has received R&D grants from Callaghan Innovation to help develop its future technologies.
What's different about StretchSense?
What makes StretchSense different isn't just its stretchy, sensing technology — it's the way it helps turn customers' ideas into reality. The company says its mission is to democratise wearables by making cutting-edge R&D accessible to everyone, while fostering creativity through customisation.
The needs of StretchSense customers range from a small run of integrated sensing systems for prototyping to wanting a fully developed product in large volumes.
Where are you going next?
StretchSense is very excited about self-powered wearables, and is working toward a future where smart garments generate power from the motion of the body. Self-powered wearables will help make wearables ubiquitous devices that disappear into clothing and benefit the user without needing to be charged.
The business is focused on enabling the next generation of start-up entrepreneurs by helping them create opportunities through innovation.