Join us for a full-day deep dive into the essential elements needed for a thriving construction business. Financial essentials for a thriving construction business is a complete expert-led workshop designed to give you the knowledge and tools necessary to ensure your business will thrive in any market.
Key Topics:
Understanding key financial reports, performance indicators and what they mean.
Managing working capital through good times and bad - credit and debtor management, funding bonds and retentions, funding structures for growth and resilience.
Knowing your costs, setting minimum margins and back costing for data driven sales strategies.
Sales strategies to maximise profit, resilience and growth through good times and bad.
Hear from: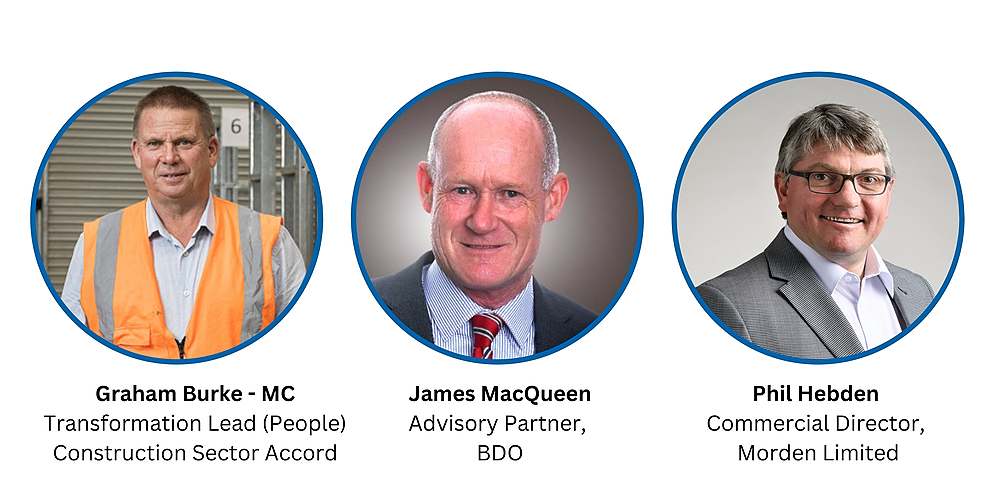 What to Expect:
Engaging sessions led by experts in construction management.
Interactive workshops that promote hands-on learning.
Opportunities to share experiences and best practices with fellow attendees.
Knowledge enabling you to build the secure foundation for your thriving business.
Event Details:
Date: 23rd November
Time: 9:30am - 4:30pm
Cost: $100 (incl GST and booking fees)
Location: Textile Centre, Callaghan Innovation, Auckland
Spaces are limited, please ensure you can commit to the full day's workshop prior to registering.
If we review your registration and believe this training is not quite right for your business needs, we will be in contact to see what alternative workshop will work for you.
Meet the presenters:
Graham Burke (MC)
Transformation Lead (People), Construction Sector Accord
Graham has worked in the construction industry for 35 years, the last 20 years specialising in scaffolding. He is an advanced scaffolder and built a successful Wellington scaffolding business, WorkZone Scaffolds. He sold his business in 2015 and it continues to operate successfully today under new ownership.
Graham's wider involvement in the construction industry includes:
Executive Director of NZCIC
Executive Officer of Specialist Trade Contractors Federation
Co-chair of ConCOVE
Trustee/Board Member of CHASNZ
Member of Building Advisory Panel (Term is recently finished)
Member of Building Research Advisory Panel
Graham is passionate about the construction industry's future and is committed to leading further change. He is adamant the way forward for the construction sector and businesses is to move the emphasis from bottom price to value, safety and quality.

James MacQueen
Advisory Partner, BDO
With more than 35 years of advisory, business services, tax, corporate finance and audit experience, James maintains a proactive partnership approach with his clients who benefit from his multi-disciplinary range of services and experience across a wide range of industries.
James passions include Construction, Manufacturing, Succession Planning, and Family Business. He has great insight into the issues and challenges facing these sectors. James develops a very close relationship with his clients and provides practical and pragmatic advice. His clients appreciate his strong industry expertise and look to him for leadership in emerging issues.
He has extensive experience in the formation and administration of trusts and a strong interest in developing business and asset structures tailored to client's current and future needs. This includes all areas of business structuring and succession planning.

Phil Hebden
Commercial Director, Morden Limited
Phil has a background in quantity surveying and commercial management. He has held posts as QS, QS Manager, and Commercial Manger working on projects across the country from hospitals to commercial high-rise buildings. He is now Commercial Director of Morden Limited, construction consulting specialists. He is a Registered Fellow of the New Zealand Institute of Quantity Surveyors. He also holds memberships with The Arbitrators and Mediators Association of New Zealand, The Society of Construction Law, The New Zealand Institute of Building, The World Commerce and Contracting Association, and the Resolution Institute of Australia and New Zealand where he sits on the Wellington Practice Group.